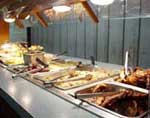 We welcome your group* with our special country style cooking. We are known for our full course buffet. Our group buffet includes the following:
Two meats, we even have real German Sausage & Sauerkraut!
A variety of fresh vegetables, you may select as many as four
Soup
Salad
Dessert, chose from homemade bread pudding with lemon sauce or fresh peach cobbler
Coffee or Iced Tea
Call for pricing
Or if you prefer something a little lighter, may we suggest…
Chicken & Dumplings, served with homemade bread & rolls.
German Sausage & Sauerkraut, served with homemade bread & rolls.
Beverage is an extra charge
Call for pricing
* We offer one professional driver a complimentary meal with all touring groups. The driver & tour coordinator get a complimentary meal when accompanied by groups of 20 or more.
While you are here, visit our in-store Gift Shop with a Meat Deli, Fresh Kolaches, Homemade Breads, Jellies and a variety of other novelties and souvenirs. Or browse our General Store with a larger selection of merchandise. It is located on the grounds - discount coupons available in the restaurant.
At Oakridge Smokehouse Restaurant,
COME AS U R AND BRING MA N' PA!
Oakridge Smokehouse
I-10 at Hwy 77 - P.O. Box 117 ~ Schulenburg, Texas 78956
(800) 320-5766 ~ (979) 743-3372